Jump to Our Services
Impressive care and treatment through state-of-the-art facilities
---
The Four SixesTM offers a full range of equine veterinary services at its modern, state-of-the-art medical facilities located at the main headquarters just west of Guthrie. Each year, more than 1,400-1,500 mares are bred from ranch, performance and racing Quarter Horse disciplines, while maintaining a 95% conception rate. The professional, highly-qualified staff not only care for horses housed at the ranch but welcomes horses from outside clients, as well.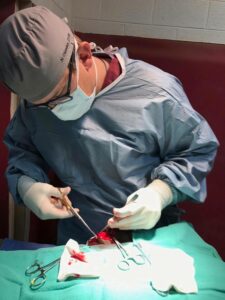 Dr. Nathan Canaday, pictured left, is the horse division manager and leads the team of veterinary staff members. He oversees all of the veterinary and reproductive services provided at the 6666® Ranch, as well as all horse breeding and management responsibilities.
Appointments
Nearby horse owners are welcome to use our services at any time. A description of the services are listed below, please call for more information or to set up an appointment.
Emergencies
Four Sixes veterinarians live on the ranch, within a mile of the medical facilities, making emergency care timely and efficient.  Our modern equipment combined with innovative diagnostics provide clients with the best opportunity for positive results.
Payment
For your convenience, we accept all major credit cards.


Medical Facilities
---
The Four Sixes' modern medical facilities include a laboratory, surgery room, foaling boxes, recovery stalls, breeding area, and more. State-of-the-art equipment includes, but is not limited to, digital x-ray, ultrasound, hematology and blood chemistry machine, semen analyzer, and computerized record keeping with breeding and hospital module.
Internal & General Medicine
---
In addition to the on-staff veterinarians, Dr. Nathan Canaday, Dr. Sadie Campbell, Dr. Zach Arnold, and a veterinary intern is also employed. Memberships are maintained in both the American Association of Equine Practitioners (AAEP) and the American Association of Bovine Practitioners (AABP). Ongoing, continuing education is sought at all times in order to remain up-to-date on the latest advances in equine veterinary medicine. Because of the high number of horses living on-site, the veterinary staff has extensive experience with a wide variety of diseases and conditions—both pediatric and adult.
Lameness
---
Full workups are available for evaluating lameness and providing proper treatment, including leg wound care. In addition to digital x-ray capabilities, our facilities allow for appropriate evaluation even in inclement weather. With a large horse population on site, we have "seen it all" regarding lameness and welcome outside cases.
Imaging
---
Our digital x-ray and ultrasonography capabilities are second to none, ensuring the best results for diagnosis and prognosis in most cases. Cases ranging from reproductive to medical benefit from both our modern equipment and wide-ranging experience.
Dentistry
---
Routine dental maintenance is performed on all resident horses, ensuring the benefits from comfortable feed consumption, and, therefore, optimal nutritional intake. Under veterinary supervision, both power equipment and hand tools are available for use, depending upon each individual case, and sedatives are properly administered when needed. Dental care is available to outside horses by appointment.
Preventive Care
---
The Four Sixes is dedicated to good preventive care for its horses, increasing the chances that individuals remain healthy and productive throughout their lives. Preventive care services include regular vaccinations, timely deworming, good nutrition, safe housing and proper farrier and foot care. These services and consultations in those areas are also available to outside clients.