Home | Quarter Horses
Quarter Horses
---
Our American Quarter Horses are consistently ranked among the best in the breed, as evidenced by our receipt of the AQHA Best Remuda Award and as an AQHA All-Time Leading Breeder of Performance Horses, Race Money-Earners and Winners. A steady stream of champion performance, race and ranch horses bred and produced by the Four SixesTM and our clients are often featured in the news.
Horsepower
---
The Four Sixes is known worldwide, not only as a historic Texas cattle operation but also for producing top-quality American Quarter Horses for western performance and ranch work which are consistently ranked among the best in the breed. The ranch is privileged to stand some of the most well-respected stallions in the industry, and the Four Sixes' mares form an elite broodmare band that produces some of the top young prospects available, many of which are marketed each year at premier auctions at the ranch and across the country.
The ranch's resident veterinarian and Horse Division Manager, Nathan Canaday, DVM, directs the award-winning equine breeding program. A recipient of the AQHA Best Remuda Award and as an AQHA All-Time Leading Breeder of Performance Horses, Race Money-Earners and Race Winners. The ranch has cultivated a steady stream of champion performance, race and ranch horses produced by the Four Sixes and our clients.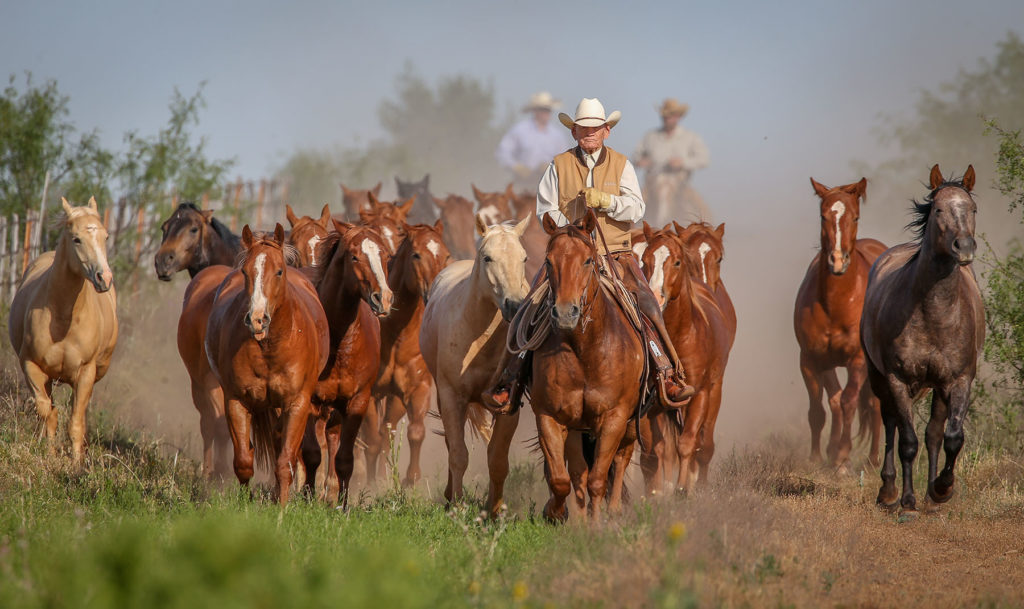 The goal of the ranch's breeding program is to produce the world's best ranch horse. For us, the horse is a vital and necessary component of our everyday operations, from prowling pastures, gathering cattle, sorting pairs while weaning to dragging calves to the fire at branding time.
The ranch stands some of the most popular stallions in the Quarter Horse industry, and modern technology allows for semen to be cooled, frozen and shipped to almost anywhere in the world. Fourteen pastures make up approximately 10,000 acres of annual grain crops, improved grasses, and native rangeland, which are managed primarily for horse production.
With rolling hills and rough, rocky terrain, the Four Sixes' pastures are large. Gathering cattle is not an easy task and requires a talented partner. The cowboys don't handle and work the cattle with four-wheelers like many people do today. Back when the ranch was established, four-wheelers didn't exist, so the necessity transcended over the years into having these really good cow horses to do the work, and we have developed a breeding program that provides us with just that.
Our operation requires that we have a working partner that is sound, good-legged and good-footed. A horse with a good back and a good set of withers that has endurance and will carry a cowboy all day long is needed. Horses loaded with stamina, smooth-traveling, smooth-moving and speed are important in doing a lot of ranch chores, but cow sense is extremely important to sort, gather, and move cattle around. Then there is the fact that we all like to ride good-looking horses!
"This is the best broke, big remuda of 75-100 saddle horses I have ever seen as far as every one of them," said longtime Four Sixes Ranch Employee Boots O'Neal. "The ranch bred really good horses and selected their mares that go back several generations to this certain mare. She's had good colts, and the guys kept them long before they had records like we have now. These are really good horses. I think that is bred in them. They are real cowy." O'Neal added, "They stress the value in good horses and good men."
The winning combination at the Four Sixes is good cattle, good cowboys and good horses.
Mare Families
---
Over the past 100 years or so, certain "mare families" have proven to deliver desirable traits in their offspring. The Four Sixes has always focused on producing the best possible ranch horses, and, in more recent years, successful arena performance and race horses, as well.
The predominant 6666 mare families are identified by number, the most important of which include: 99 (our most dominant line), 96, 59, 4, 23 and Triangle 29 (V29). The unique traits of each are taken into consideration when breeding decisions are made each year.
Some ranch-type mares from time to time are crossed with race-bred stallions, as we recognize the historic influence of Thoroughbred lines in a good breeding program. The resulting offspring often make excellent performance horse prospects in several disciplines, including various cattle classes, roping and barrel racing – as well as good breeding stock.
6666 Broodmare Selection Criteria
The decision to retain a broodmare is based on the following:
Conformation
Pedigree
How well (gelding) siblings perform, usually on the ranch
Her show or race record, if shown or raced
Siblings' show or race records
Quality and performance of offspring (retention over time)
Behind the brand.
Dr. Nathan Canaday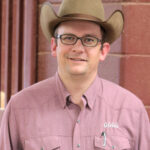 Dr. Nathan Canaday is the Horse Division Manager and Veterinarian at the 6666 Ranch, with 12 years of
dedicated service to the ranch. He received his associate degree in science at Otero Junior College and
pursued his Doctorate of Veterinary Medicine at Colorado State University, where he received several
awards. Dr. Canaday completed two undergraduate internships at the 6666 Ranch in 2006-2007 and was
employed full-time in 2011. As the Horse Division Manager, Dr. Canaday oversees all aspects of the
ranch's horse breeding program, including coordinating breeding schedules and managing horse health
and well-being. Dr. Canaday also handles the veterinary needs of the ranch's cattle division as well as offers
services to the surrounding ranches.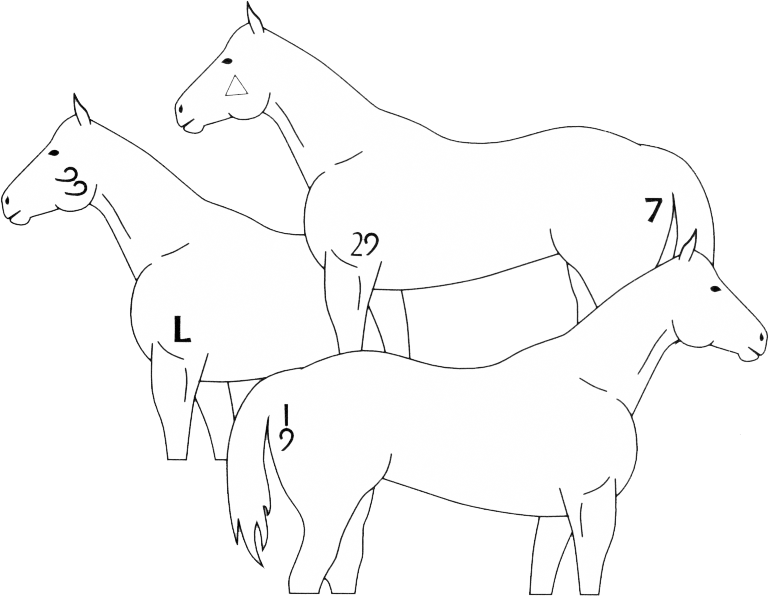 Left Jaw
Brand here designates old Triangle Ranch lineage or other mare family lineage on Four Sixes Ranch horses.
Left Shoulder
The "L" brand, recognizing ancestor M. B. Loyd, is placed on Four Sixes Ranch horses. On Triangle Ranch mares, a brand here designated a particular mare family.
Left Buttock
Designates the year the horse was foaled.
Right Buttock
Designates the horse's sire.