---
Horsemanship is not just a skill; it's a way of life. We are passionate about sharing the vital horsemanship skills that are the backbone of our operation. Join us for an unforgettable experience that will bring you closer to your trusted equine partner and closer to the heart of the 6666 Ranch.
6666 Ranch Horsemanship Clinic
---
Join us for an unforgettable experience at the 6666 Ranch Horsemanship Clinic. Set against the backdrop of the legendary 6666 Ranch, this three-day clinic promises to be an extraordinary journey to better your horsemanship skills and develop the feel necessary to take your riding to a new level. Led by Four Sixes Ranch General Manager Joe Leathers and assisted by our experienced 6666 Ranch Cowboys, participants will gain invaluable insights into horsemanship and develop a feel, all while immersed in the rich heritage of this iconic ranch.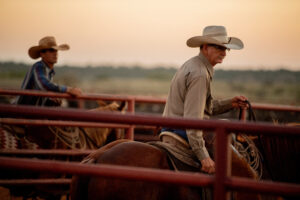 Please note that participants' horses must have a minimum of 90 days under saddle, as this clinic is not geared toward colt starting. A sound and willing horse is crucial to your personal growth as a horseman and to fostering a positive learning environment for all participants. 
You will be treated to hearty breakfasts and delicious lunches served right at the ranch. RV hookups are available for added convenience, or you can choose from a list of local hotels just a short drive away. With your evenings free, you'll be able to explore nearby dining options just a short drive from the ranch for dinner. During your stay at the 6666 Ranch, you'll have the opportunity to stall your horse on-site in the same barns that have stood many of the horse industry's greats. 
Whether you join us with your horse or as an auditor, prepare for full days of riding from 9:00 a.m. to 4:00 p.m., with a midday break for lunch. Auditors are welcome to participate for the entire clinic or choose daily access, which includes both breakfast and lunch as well.
Come ready to absorb the wisdom of these great horsemen and take in the breathtaking views of the ranch. With countless hours in the saddle, Joe and our 6666 Ranch cowboys are ready to share their unparalleled expertise. Don't miss this opportunity to enrich your horsemanship skills while enjoying the iconic Four Sixes Ranch.
Handy Horsemanship
---
Born 1958, Joe Leathers has been horseback working for some of the largest ranches in Texas. Starting and finishing hundreds of horses and working with different cowboys has given Joe a unique perspective of not only horses but horsemen.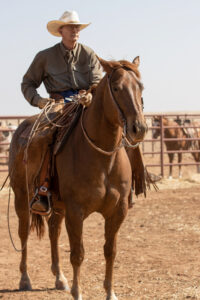 Joe believes that a good horseman is someone who has a program, but has the ability to change that program to be able to get into the horse's mind and not just control his body. The ability to break down and control the different body parts of a horse is imperative to creating a handy horse. This includes "without resistance" the head, neck, shoulders, ribs and hip. A Handy Horse becomes a partner that moves freely and willingly to accomplish any job you wish to perform.
Developing Feel
There are a lot of people who know how to start a horse and put a foundation on that horse, but many do not understand how to take that foundation and build on it to make what Joe calls a "handy horse". Building on that foundation takes "feel" from the rider, and the message being received creates willing responses from the horse to accomplish the job that is placed before him.
Joe says that it is very hard to teach feel. Feel is something that has to be experienced. Once you experience feel, it creates a "WOW moment" in the rider's abilities and allows them to accomplish anything imaginable with their horse. No matter what discipline you use your horse in or what job you have to do, once you're in the horse's mind and he's moving freely and willingly then he needs a job to do in order to apply what you both are learning.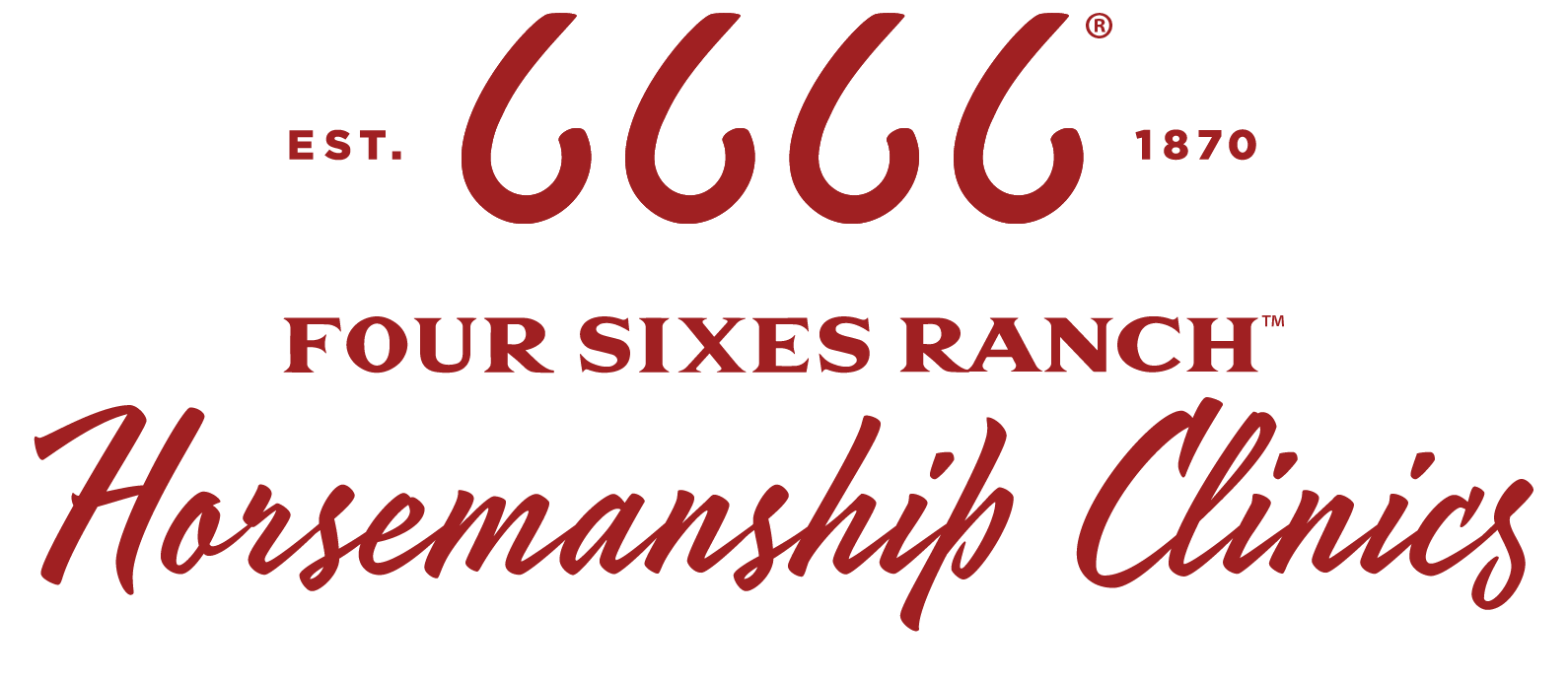 Clinic Dates
• November 9-11, 2023
• The November clinic is filling up fast. Additional Clinic Dates TBA soon!
Location
6666 Ranch
1102 Dash For Cash Road
Guthrie, TX 79236
Clinic Fee
• $1500 for 3 Day Horsemanship Clinic
• $1250 for any horse purchased at the Return To The Remuda Sale
Audit Fee
• $375 for 3 Day Horsemanship Clinic
• $125 per day
What attendees are saying
Participants offer testimonials about their experiences working with Four Sixes' Ranch Manager Joe Leathers at a recent clinic in Kentucky.
""My wife Chris and I own Big Creek Land and Livestock, a cattle and horse breeding operation in central Kentucky. We also specialize in hosting various horse activities at our facilities. We recently had the opportunity to host Joe and Louise Leathers for a horsemanship clinic. It truly was an awesome experience. Joe is a top-tier horseman who has tremendous communication skills that create an excellent environment for learning. His horsemanship skills combined with his years cowboying and managing the sixes present a unique blend of instruction. From the foundation to the finish, his style of instruction truly encourages and elevates horse and rider to the next level. We would highly recommend Joe to anyone seeking to learn and grow their knowledge and horsemanship skills.""

Mike and Chris Stokley

Big Creek Land and Livestock
""Joe Leathers did an outstanding job and was very helpful to all of us who attended..we worked on so many things to help make ourselves and our horses better..and I would definitely jump at the chance to spend more hours in the saddle with him teaching us the correct way to put our horses in the best position to get the job done correctly…I'm 77 years old and never too old to learn from a pro like Joe Leathers.""

Bill Mauk
""You touched all of our lives deeply. Handy Horsemanship with Joe Leathers is a 5-star clinic. Joe sets the tone for a positive encouraging learning environment that is unparalleled in any clinic I've ever attended. Mr Leathers helps you identify where you and your horse are and works to help you find the feel, and when you are pushing you and your horse past your learning limit. His patience to help me find the feel was one of the most selfless patient acts he could give each of us. He did not get on my horse and show me my horse could do it, he guided me through attaining movements with my horse through better communication. I honestly was overwhelmed by the positive environment he led. Each of us encouraged each other inspired by the example Joe led with. Truly the best learning and growing clinic I've attended! So blessed and fortunate he was willing to travel to KY and help me in my horsemanship journey. His knowledge and ability to share that on my level of understanding was amazing!""

Susan Dickinson
""I attended my first Joe Leathers Clinic this July 2023. I was seriously lacking confidence and knowledge of the breakdown and control of the different body parts and creating a partnership with my horse. In just three days of the clinic, I noticed an improved demeanor in my horse (and myself) and an improved relationship with him. This clinic has opened a new door for me which I am eager to go through. Joe - I cannot thank you enough. Looking forward to more with Joe in the future.""

Joanne Sharpsteen

Winchester, KY
""I attended the Joe Leathers clinic in July at the Stokley's place. I wasn't sure what to expect but I was pleasantly surprised. I grew up riding English at home in Denmark, so Western riding is new to me. My horse is an older horse but very green in his training and Joe's way of explaining his way of doing things helped me out tremendously and therefore helped my horse understand what I was trying to make him do. Joe is a very good teacher, and I could see it in his eyes that he really enjoyed the young generation of the clinic. Well done Joe! I hope you're coming back to Kentucky soon.""

John Hugerup Rasmussen
""I learned it is more important to use my legs than the reins to direct your horse because it gives your horse more feel and he/she will start to yield to your leg pressure. I also learned that neck reining is for speed and to use a voice command for more speed. After taking what I learned and applying it to my own horse, he is more focused, stands better, and has more feel. While tracking the roping dummy he stays more focused on it. He doesn't look off to the side and stays right with it. Even when we rope the dummy he stays right with it. I learned what feel really feels like, my horse is responding to lighter pressure and making bigger yields.""

Kenleigh French

13-years-old