Date/Time
Date(s) - 12/02/2020
4:00 pm
Location
Fort Worth Livestock Exchange
Wednesday, December 2nd at 4:00PM the Fort Worth cattle herd is blazing a trail west to the new seasonal shop in the Stockyards National Historic District. The Four Sixes cowboys are coming to Cowtown to commemorate the inaugural cattle drive held on June 13, 1999 when they rode for their brand to deliver the herd to the city. On this momentous drive, you are invited to join the cowboys in paying tribute to the vision and leadership of the late Anne Marion, who served that day as the city's Honorary Trail Boss. The drive will conclude at the Four Sixes Supply House seasonal shop at 200 West Exchange, at the corner of Ellis Avenue.  The Four Sixes Supply House will host a number of events during their set up from December 2-13.  Click here to visit their event page for more information.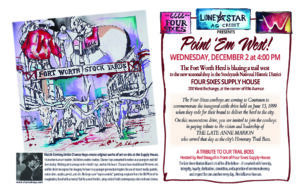 Click on this image for more event information.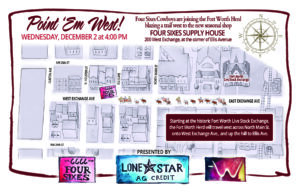 Click on this image for a map of the cattle drive to the Four Sixes Supply House Pop-up Shop.