The annual fall sale was held October 6 at Four Sixes Ranch in Guthrie, Texas, and 146 horses were sold.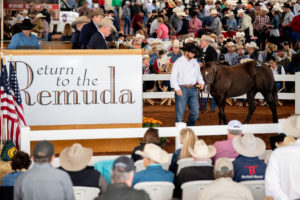 Guthrie, Texas, October 10, 2018 — The Annual Return to the Remuda sale was hosted at the Four Sixes Ranch in Guthrie, Texas on October 6, where the Beggs Cattle Company, Four Sixes Ranch, Tongue River Ranch, Pitchfork Land and Cattle Company, along with guest consignors Wagonhound Land & Livestock and King Ranch, sold 146 horses to the public.
The sale experienced the largest crowd ever on hand to preview and purchase what these ranches have spent decades producing with their breeding program. Their dedication to providing true working partners, desired both on the ranch and in the arena, resulted in the highest gross sales and highest average in the history of the sale.
Gross Sales were $1,545,200 an increase of 10% over 2017 with 20 fewer horses selling. Averages were up across the board over 2017 for every category of horse sold:
Yearlings up 171%75
Weanlings up 86%
2-year-olds up 40%
2-year-old fillies up 58%
Broodmares up 51%
This year's aged geldings proved to be the hot commodity with the average being more than $20,000, the highest gross recorded for this category since 2000 and a 28% increase over 2017. Nine of the top 10 high sellers were all aged geldings.
Congratulations to the connections of the top 5 sellers:
Hip #75 TRR BIG PEPPY, 2017 gray gelding (TRR Big Iron x HF Doc Peppy Miss, by Mr San Peppy). Consigned by the Tongue River Ranch – $45,000.
Hip #134 ROYAL BADGER LAD, 2011 buckskin gelding (Royal Fletch x Gray Badgers Return, by Hollywood Return). Consigned by Four Sixes Ranch – $38,000.
Hip #55 COWBOY ADDITION, 2011 sorrel gelding (First Fletch x Valliant Addition, by Tanquery Gin). Consigned by Four Sixes Ranch – $37,000.
Hip #40 BOSSES SELECTION, 2011 sorrel gelding (Mr Playinsytlish x Cowboys Selection, by Paddys Irish Whiskey). Consigned by Four Sixes Ranch – $35,000.
Hip #144 PLAYIN STOLI, 2010 sorrel gelding (Playin Stylish x Ginnin Stoli, by Stoli). Consigned by Four Sixes Ranch – $34,000.
"Thank you to everyone who came out and supported the sale this year. We are proud this event has become one of the premier ranch horse sales in the country." said the Four Sixes' Horse Division Manager Dr. Glenn Blodgett. "The sale prices reflect decades of dedication to the American Quarter Horse breed and there is nothing more rewarding than seeing the public appreciate our hard work."