A Celebration of Life will be held Wednesday, April 21, 2023 at 2 p.m. in the Round Up Inn Room at the Amon Carter Exhibit Hall at the Will Rogers Memorial Center in Fort Worth, Texas.
In lieu of flowers, donations may be made to the following:
American Quarter Horse Foundation https://tinyurl.com/s9udb2zm
Texas Tech School Veterinary Medicine www.give.ttu.edu/Blodgett
Texas A & M University Glenn Blodgett Equine Chair please contact 979-845-9043
Dr. Glenn Paul Blodgett
December 21, 1948 – November 20, 2022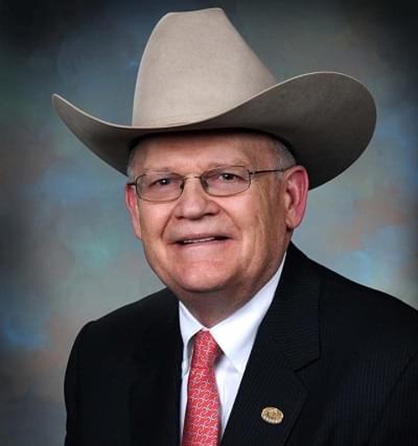 Dr. Glenn Paul Blodgett, of Guthrie, Texas, was called home on November 20, 2022, due to a complication from surgery, leaving behind a legacy that helped write the history books for the Four Sixes Ranch and the American Quarter Horse.
Born on December 21, 1948, Dr. Blodgett, or "Doc" as most called him, traveled a long way in his 74 years, from the family farm in Spearman, Texas, to a leader in the American Quarter Horse industry and around the globe as an ambassador for the breed, representing the ranch and the profession, and championing the welfare of the horse.
His fondest childhood memory was getting his first horse, "Smokey," when he was 10. As he grew, his love for horses did too, and in the manner for which he is widely known, Dr. Blodgett set his sights early and began working diligently toward his goal of becoming a veterinarian. After high school graduation, he attended his father's beloved Texas Tech University (TTU) for one year before transferring to Oklahoma State University (OSU), where he received a Bachelor of Science degree in Animal Science. From OSU, he then completed veterinary school at Texas A & M University (TAMU) in 1974 and began working at the Spur Veterinary Hospital in Spur, Texas. Two years later, he returned to his Spearman, Texas, roots to open Hansford County Veterinary Hospital with Dr. Tom Latta.
In 1982, Ms. Anne Marion of Burnett Ranches was looking for a good businessman, horseman and veterinarian, so she approached Dr. Blodgett to work for her as the resident veterinarian and manager for the Four Sixes Ranch horse division. The two made an impressive team sharing the vision of continuing and enhancing the legacy of Quarter Horse production on the Four Sixes Ranch with the utmost integrity. Through their partnership, they developed a world-class, multi-tiered operation with some of the most elite race, performance, and working ranch horses available anywhere in the world.
Dr. Blodgett didn't just manage the horse division; he lived and breathed it. The horse business is a reputation business, and his approach was simple: his passion, credibility and honesty set him and the ranch apart. Under his leadership, the ranch became an industry leader in reproduction, breeding more than 1500 mares annually. During his tenure at the Four Sixes, the ranch became an all-time leading breeder of both racing and performance American Quarter Horses, and in 1993 won the AQHA Best Remuda Award.
The Bible says, "A person's wisdom yields patience" (Proverbs 19:11). This was the foundation of Dr. Blodgett's success. Often his business and breeding decisions took time to come to fruition, but the genius became apparent later and the entire horse world benefited from his influence and innovations.
He set a high standard for all to follow as he always strived to do what was right, always do better and take the high road no matter what. Every breeding decision was carefully considered, and he could recall two, three, or even four generations that he had been involved in breeding. He knew the story of every
horse on the place; from nutrition to health care, he diligently set them up for success.
A soft-spoken man with an easy smile and a dry sense of humor, Doc had a grin that he was famous for and a chuckle that everyone loved. Throughout his career there were two questions Dr. Blodgett was asked the most, what is your favorite kind of horse and what is your favorite horse color? His answer was always the same, "a fast one!"
It's impossible to sum up the life of an icon or legend in a few paragraphs; all you can do is write about the man you love and respect. One of his closest friends for more than 20 years, Johnny Trotter, may have summed it up best, "I do not know of any other person that has contributed as much to the horse industry, and in every facet, as Dr. Blodgett has. If he is not the best man I have ever met, he ranks right up there in the top two or three. Not many people are like Dr. Blodgett. He was as true a friend, business partner and person as I have ever known. I am really glad that God decided to bless my life with a relationship with him because it is a huge blessing."
A man of few words, there were times that he expressed himself that were extremely meaningful to those on the receiving end. In the 37 years that Boyd Rice rode horses for the ranch he very distinctly remembers the two times that Dr. Blodgett said he was proud of him. The first time was in 2005 after he rode Playin Attraction at the NRCHA Snaffle Bit Futurity, winning both the Intermediate Open Champion and Open Reserve Champion. Rice recalls, "It felt good to have him tell me he was proud of me but when it felt really good is when I showed his half-brother Quahadi at the World's Greatest Horseman in 2021. We had won the preliminary round and, in the finals I missed my steer in the steer stopping. I was pretty disappointed but after the event Glenn was presenting the awards and he said to me 'I know that it did not turn out the way either of us wanted but I am very proud of you'. As an owner he could have said a lot of things, but this meant the world to me. It really reaffirmed the kind of man he was."
Dr. Scot Martin, the current owner of Hansford Veterinarian Clinic in Spearman, Texas, is one of the many people that will say that Dr. Blodgett had a profound impact on his life, saying he was always ready to listen and give a gentle nudge "At every crossroad in my career I consulted him, and I did everything he advised me. If asked how I would describe Dr. Blodgett to a total stranger, I would say he loved others and loved God like no other human that I ever knew. He was so patient, beyond reproof. He was as close to living all of the Fruit of the Holy Spirit – love, joy, peace, patience, kindness, goodness, faithfulness, gentleness and self-control – as anyone I have ever known. It was not something he worked on, it came pretty naturally, he was born into it."
Dr. Blodgett's professional contributions were immense. His commitment to the betterment of the American Quarter Horse breed and his steadfast involvement dates back to 1991 when he began his service as a Texas Director of American Quarter Horse Association (AQHA). From there, he served as chairman of the AQHA Stud Book and Registration Committee, AQHA Hall of Fame Selection Committee, AQHA Executive Committee, and AQHA Executive President. He served on the American Association of Equine Practitioners (AAEP) Board of Directors, Racing Ethics and Ethics Ad Hoc Committees. He was appointed to the first Texas Horse Racing Commission. In addition, he was an active member of the Texas Equine Veterinary Association (TEVA), the Texas Quarter Horse Association (TQHA), the Texas Veterinary Medical Association (TVMA), the American Association of Bovine Practitioners, and the Ranching Heritage Association.
Over his lifetime he had been recognized by numerous organizations including the AAEP Distinguished Life Membership Award; TVMA Equine Practitioner of the Year; AQHA Register of Merit Award; Association of Racing Commissioners International's Joan Pew Award for racing commissioner of the year; OSU Graduate of Distinction in Animal Science; Outstanding TAMU Alumni; AQHA Racing Council Special Recognition Award; National Ranching Heritage Center Golden Spur Award; and was inducted into the AQHA Hall of Fame, Texas Horse Racing Hall of Fame, and Texas Cowboy Hall of Fame.
He was honored with an adjunct professorship in the Department of Large Animal Clinical Sciences at the Texas A&M College of Veterinary Medicine & Biomedical Sciences and taught at Texas Tech University as an adjunct graduate faculty member. In addition, he mentored hundreds, if not thousands, of senior veterinary students from throughout the country and abroad at the 6666 Ranch.
He was a part of Alpha Gamma Rho at OSU, a fraternity dedicated to upholding high morals and standards while "making better men." This foundation of friends was very important to him.
His commitment to community service and philanthropy were an important role in Dr. Blodgett's life. He served on the Guthrie Common School District as a board member for 24 years, was a member of the advisory board for Tarleton State University in Stephenville, served as chairman of the King County Tax Appraisal Board, Vice President of King County EMS and was an active supporter of the 4-H and FFA.
Dr. Blodgett was preceded in death by his parents, Helen Johanne and Clarence Ralph Blodgett and his faithful employer and friend for 40 years, Anne Marion.
He is survived by his high school sweetheart and wife of 53 years Karen Blodgett: daughters, Buffie Guynes and Brandie Blodgett Mustian and husband Mike; grandchildren, Claire Guynes, Rebecca Guynes, Catherine Guynes, Myla Mustian and Maddox Mustian; sister, Marilyn Cline; brother-in-law, Ronnie Wright and wife Lelia; and a host of nieces, nephews and extended family.