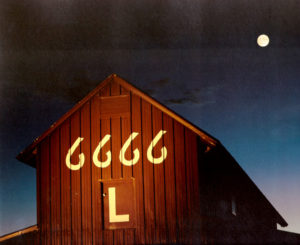 Ruidoso Downs Racetrack, December 2011 — The famed Four Sixes Ranch, currently owned and operated by Anne Burnett Windfohr Marion, is the owner/breeder and Heath Taylor is the trainer to be inducted into the Ruidoso Downs Racehorse Hall of Fame as part of the 2012 class.
The jockey and horse also to be enshrined during the June induction ceremony will be announced the week of December 19.

The Ruidoso Downs Racehorse Hall of Fame is dedicated to educating the public about horseracing and preserving racing's history. It features a collection of very rare pieces of racing memorabilia located at Ruidoso Downs and is free to the public. All donations to the Racehorse Hall of Fame are tax deductible and help promote the Hall of Fame's mission.
The Four Sixes Ranch is part of the famous Burnett Ranches LLC, which is among the most storied family-run businesses in Texas history. It was started by Captain Samuel "Burk" Burnett in 1868 when he bought 100 head of cattle with a "6666" brand. The operation now stretches over 275,000 acres near Panhandle and Guthrie, Texas, and is overseen by Burnett's great-granddaughter Ms. Marion, also known as Little Anne.

In addition to the vast cattle business, the horse operation has set the highest standard for racing, performance and ranch horses. Their foundation stallions included Cee Bars, Hollywood Gold, Joe Hancock and Grey Badger III. The ranch's racehorse breeding program has flourished over the past 50 years and has been headed by world champions and leading sires Dash For Cash and Special Effort, each a member of the Ruidoso Downs Racehorse Hall of Fame, until their deaths.

The Four Sixes currently has a very deep stallion roster headed by leading sire Mr Jess Perry, the second-ranked sire of graded stakes winners in 2011. His 2011 stakes winners include Grade 1 Heritage Place Futurity winner High Rate Of Return and Grade 1 Los Alamitos Super Derby winner Miss Racy Jess.
Miss Racy Jess, co-owned by Burnett Ranches and Johnny Trotter, raced to her third-straight win on November 6 when she won the $935,350 Los Alamitos Super Derby, quarter horse racing's second-richest derby behind the All American Derby at Ruidoso Downs.
Taylor has become one of the most important trainers in quarter horse racing. He is the all-time third-ranked trainer of stakes winners behind Paul Jones and Blane Schvaneveldt, and the fourth-ranked trainer of all-time money earners behind Jones, Schvaneveldt and Jack Brooks. Each of those trainers ranked ahead of Taylor is a member of the Ruidoso Downs Racehorse Hall of Fame.

Taylor saddled Jerry Windham's Stolis Winner to victories in the Grade 1 All American Futurity and Grade 1 Rainbow Futurity on his way to being honored as the 2008 world champion as a two-year-old. He is now the all-time leading money earning quarter horse at $2,235,161.
Taylor has multiple wins in the Heritage Place Futurity, Refrigerator Handicap, Texas Classic Derby, Dash For Cash Derby, Firecracker Futurity, Sam Houston Futurity, Oklahoma Futurity, Oklahoma Derby, Mardi Gras Futurity and the Sam Houston Futurity.