More than 1,700 horses and 1,200 exhibitors competed at the Lucas Oil AQHA World Show, and the Western performance entries left a lasting mark.
Quarter Horse News – January 1, 2020
By Teri Lee & Kate Bradley Byars • Photos by Shane Rux Photography
The 2019 Lucas Oil American Quarter Horse Association (AQHA) World Championship Show, held Nov. 7-23 at the State Fair Park in Oklahoma City, drew exhibitors in pursuit of a golden globe.
The contestants came from nine countries: the United States, Brazil, Canada, Costa Rica, France, Germany, Japan, Switzerland and the United Kingdom. All told, they competed for 99 World titles and 90 Adequan® Level 2 championships during the 17-day show.
The World Show Junior, Senior and Amateur cutting entries totaled 109 with a total purse of $95,929. The Junior, Senior and Amateur Reining classes drew 156 entries that competed for $71,618. And, there were 184 entered in the Junior, Senior and Amateur Working Cow Horse and Boxing divisions, which paid $73,562.
Blue Kahlua, owned by Montlake Farms LLC of Seattle, claimed his second consecutive Lucas Oil Superhorse award — presented to the horse that earns the most points in three categories during the show. The 2013 gelding (Chocolua x Exotic And Blue x Sky Blue Boy), bred by Alyse Roberts of Tuttle, Oklahoma, was shown by AQHA Professional Horseman Chuck Briggs of Azle, Texas.
Junior Cutting
Rockin KW and California trainer Dylan Meyer were rockin' at the World Show. They scored a 225.5 to move to the No. 1 position in the Junior Cutting finals.
"Rockin," a 5-year-old mare owned by Whit and Kim Davis, and bred by Circle Y Ranch, also won a second title — the Amateur Level 2 Championship with Kim Davis in the saddle.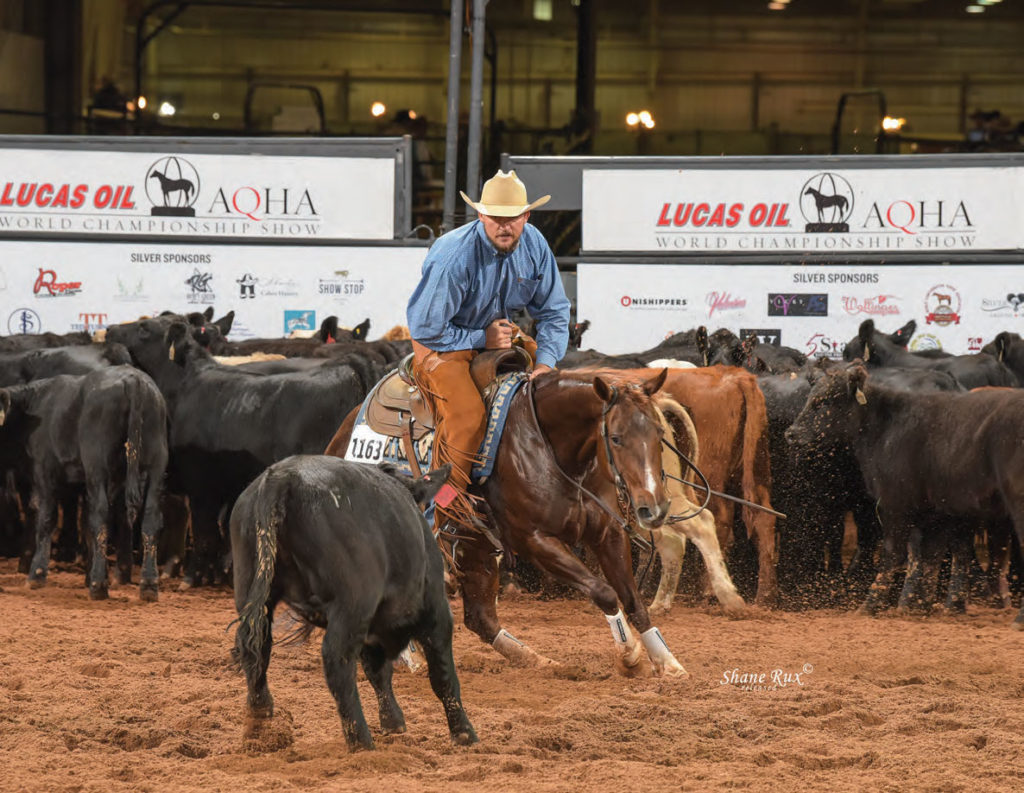 When Rockin (Rockin W x TF Smartlittle Linda x Smart Little Lena) arrived in Oklahoma City, she had lifetime earnings of $152,018 recorded in Equi-Stat. Meyer's totaled more than $422,000.
This year's World Show marked Meyer's third trip to the event. Two years ago, he placed third in the Junior Cutting riding Shesa Puddy Rey.
"It was kind of fun to come back and move up a couple spots," Meyer said after the event.
When it came time for Meyer and Rockin to enter the show pen as the last draw in the finals, they had a pretty small group of cattle to choose from.
"A few of the ones that we really liked didn't peel too good when we got down there," Meyer said. "First out, we had a real good black cow, and I think it was probably the best cow that I cut.
"I optioned off on my second one, but the mare was really good. She was really sharp and let me kind of force the issue and break down some cows that maybe you don't normally get to break down. She was on target the whole way through."
Meyer said he started Rockin as a 2-year-old, and she's been in his program the whole time. He showed her at the 2017 National Cutting Horse Association (NCHA) Futurity and did well in the first go-round, but they weren't so lucky in the second go.
The thing that makes the mare so special, Meyer said, is her grit and heart.
"When it's tough, she just gets better. She's been a horse that, a lot of times when you are in situations that aren't supposed to work, she just digs deep and gets you through it!"
Rockin, whom Meyer said is pretty sensitive and sweet, prefers to be left alone when she's not competing.
"She definitely likes to have her space," he said. "And, she likes one person. She likes whoever is handling her, but when there's more than one person [around her], she starts getting a little edgy. She just likes one thing at a time."
Senior Cutting
Equi-Stat Elite $4 Million Rider Lindy Burch and her 2012 mare Bet Shes Smooth, the 2015 NCHA Futurity Open Reserve Champion, took control in the Senior Cutting finals. They scored a 223 to win the World title.
Burch said she was happy to draw fourth for the performance.
"In the preliminary go-round, I was last in the second bunch, and it was awful tough," she added.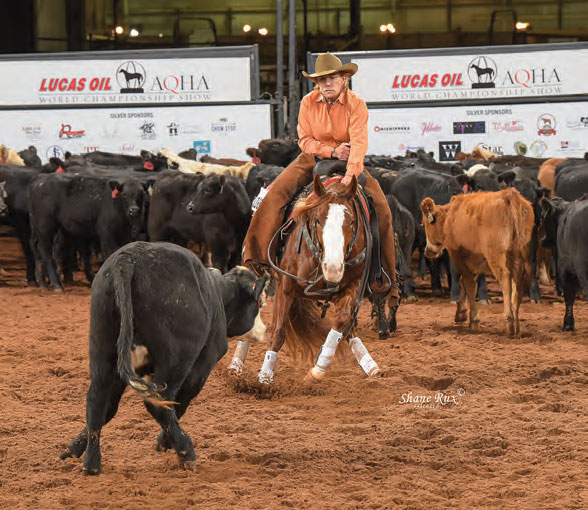 Burch and Bet Shes Smooth, aka "Tina," got off to a good start in the finals, working the three cows Burch hand-picked as her best options. Their first was a difficult cow, but it started the run off strong and with a lot of eye appeal, Burch said.
On their second cut, Burch intended to "go for the throat, so to speak," on a cow she expected to be a challenge. But, the cow failed to meet her expectations.
"She certainly was an OK cow, but not a great cow," Burch admitted. "She tried me a little bit, then she just kind of ran from wall to wall. The mare did all she could do and was perfect.
"I just trotted right after our third cow and pushed her up clean, so the judges could see that I was trying to win something. [That cow] was really good, so I finished real strong. I was really happy with the run overall, and I thought my mare was extraordinary."
Tina (Smooth As A Cat x Bet Yer Blue Boons x Freckles Playboy), bred and owned by Burch's Oxbow Ranch of Lipan, Texas, had $150,394 in earnings before she arrived at the World Show. Her intelligence and cow sense are Burch's favorite qualities about the mare.
"She's a real cow horse. She reads a cow, and then reacts appropriately. She's not a horse that just runs left and right and stops like she's working a flag; she actually works a cow," Burch explained. "I just think she's a great mare. She's been great her whole life. I am super happy with her.
"She's kind, she's smart. I've never had a bad day training her, and she was super easy to train. She is one of my favorite horses — probably my second favorite of all time and only being beat out by her mom, Bet Yer Blue Boons."
Amateur Cutting
Ricky N Reyd Streaks and Rieta Dufurrena, the Amateur Cutting World Champions, did double-duty in order to claim victory at the World Show.
Dufurrena of Gainesville, Texas, and the 2013 gelding (Dual Rey x GS Kittys Littlelena x Smart Little Lena), bred by Gordon Sevig of Walford, Iowa, and owned by Dufurrena's mother, Shona, won a runoff with Smooth De Mayo and Don Perkins to claim the title after first tying with a 222.
The duo also won the preliminary go-round with a 223.
Dufurrena drew first in the ride-off to determine the championship.
"Fifteen head of horses had already gone through that herd, so we were having to go back through the [cow] list to figure out what we wanted to cut," she said. "And, that was kind of tricky because there really wasn't much left in that set of cows."