2011 OUTSTANDING ALUMNI
DR. GLENN P. BLODGETT, '74
His colleagues, his profession, and his community recognize Dr. Glenn P. Blodgett, '74, as a leader in equine veterinary medicine.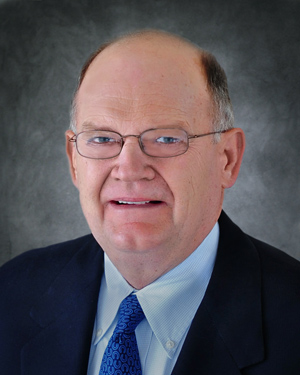 After graduation, Dr. Blodgett joined Spur Veterinary Hospital, a mixed veterinary practice in Spur for two years. In 1976, he became self-employed at the Hansford County Veterinary Hospital in Spearman, where he served primarily large-animal clientele for 6 years. In 1982, he joined Burnett Ranches, LLC (6666 Ranch) in Guthrie, where he is currently resident veterinarian and horse division manager. While at Burnett Ranches, Dr. Blodgett has grown the largest individually owned ranch property in Texas to an equine industry leader in equine embryo transfer and artificial insemination. Under his leadership, the ranch has consistently produced and developed some of the most highly recognized racing and western performance quarter horses worldwide, earning the ranch numerous awards and distinctions from the American Quarter Horse Association.
Dr. Blodgett's professional contributions are immense and encompass both veterinary medicine and the horse industry. He served as a member of the Texas Racing Commission, and also served on the Board of Directors for the American Association of Equine Practitioners. He currently serves on the Board of Directors for the American Quarter Horse Association. In addition, he is an active member of the Texas Equine Veterinary Association, the Texas Quarter Horse Association, the Texas Veterinary Medical Association, the American Association of Bovine Practitioners, and the Ranching Heritage Association.
Commitment to community service plays an important role in Dr. Blodgett's life. He served on the Guthrie Common School District as a board member for 24 years and was a member of the advisory board for Tarleton State University in Stephenville. He is currently serving as chairman of the King County Tax Appraisal Board and is an active supporter of the 4-H and FFA.
Over his career, Dr. Blodgett has been recognized on numerous occasions for his contributions to the equine industry. In 1992, he received the Joan Pew Award from the National Association of State Racing Commissioners. He also received the American Quarter Horse Association Register of Merit Award in 1990. In the same year, he was awarded Equine Practitioner of the Year by the Texas Veterinary Medical Association.
In 1994, Dr. Blodgett was awarded an adjunct professorship in the Department of Large Animal Clinical Sciences at the Texas A&M College of Veterinary Medicine & Biomedical Sciences. He also teaches at Texas Tech University as an adjunct graduate faculty member. In addition, he mentors 25-30 senior veterinary students each year from throughout the country at the 6666 Ranch.
Dr. Blodgett and his wife, Karen, have two daughters and four granddaughters, with a grandson due in July. In his leisure time, he enjoys spending time outside, raising horses, exercising, and horseback riding. He also enjoys traveling with his family and photography.