While this Texas ranch has a rich history and strong traditions, ranch management is looking to the future
Canadian Cattlemen: The Beef Magazine
By Dale Bliss
February 24, 2022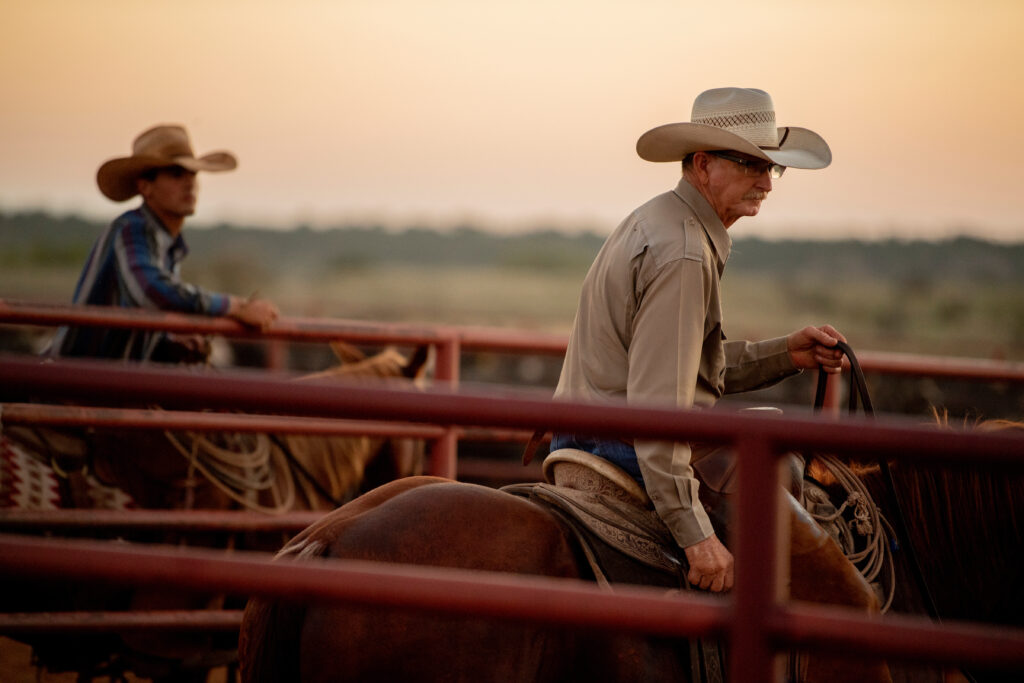 As the cow camp cook's triangle rings before dawn, cowboys jump up out of their bedrolls like biscuits rising in a Dutch oven over a campfire. They amble over to the chuck wagon for a biscuit with a couple of pieces of bacon slapped inside, and a tin cup filled with piping hot coffee. With expert ease, they saddle their horses and the day begins. Lunch was sometimes hard tack in the saddle and a drink of water out of the canteen, filled from the nearest creek or river. A cowboy's nine to five begins before sunup and ends long after the stars have blanketed the sky.
Scenes just like this played out on the Four Sixes in its early days, as Captain Samuel Burke Burnett and a handful of dependable cowboys built the ranch's legacy. It's no wonder the ranch has lately served as a filming location for 1883, the Yellowstone prequel. Yet, thanks largely to Burnett's descendants and the ranch's employees, the ranch has adopted a forward-looking approach to running the cattle operation.
But first, a little history. In 1870, Burnett bought 100 yearlings with the Four Sixes brand attached. He decided to purchase the brand because he felt that it could not be easily changed by a running iron. Burnett chose to raise purebred Herefords and Durham bulls. He traveled throughout the United States showing, and winning with, his prized animals. In 1918, he lost 2,000 head of cattle to a blizzard, but by 1936 he had rebuilt to 20,000 head.
The last member of the Burnett family to own the ranch was Anne Windfohr Marion, a beloved figure and the great-great-granddaughter of Captain Samuel Burke Burnett. Marion, affectionately known as Mrs. Anne, passed away in February 2020.
"Mrs. Anne treated her employees as her family. She was an only child and the employees of the ranch were her family. She loyally cared about us and was concerned for us," says Louise Leathers, who works in administration at the Four Sixes. Along with her admin work, Louise takes care of the day-to-day running of the household. Louise's husband, Joe, is the ranch's general manager.
Joe Leathers has been with the ranch for over two decades. When called in for a job interview, he was immediately hired.
Different breed, new technology
With the future always on the horizon, change is constant. And, like any other business that wants to strive for excellence, the Four Sixes has had to make changes. Fast-forwarding past the millennium, the ranch now runs all Black Angus. Due to their production traits and market demand, this has become the beef breed of choice for the Four Sixes.
"Mrs. Anne Marion's vision was to raise the best cattle and finest horses that could possibly be raised. She also wanted to reclaim the land from invasive brush and set a standard for environmental stewardship. Mrs. Anne was a perfectionist in every aspect because she believed the ranch reflected who she was and who we are. It is obvious by looking at the brilliant and up-to-date condition of the ranch that her expectations were to achieve excellence," says Louise.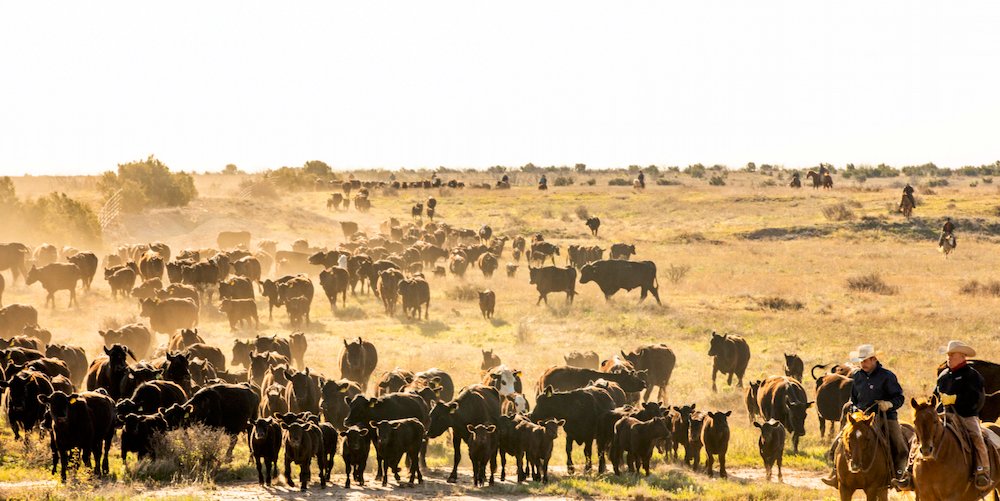 With consumers becoming more aware of health and the nutritional value of foods, the Four Sixes wanted to be a part of health consciousness.
"With the consumer today looking to where their food comes from and the nutritional value it has and how sustainable it is to the environment, we are raising everything all-natural. Not only quality, but providing a story behind the brand," says Joe Leathers.
"The consumer-driven market caused us to reconsider our Hereford-bred cattle. We have made the transition to all Angus cattle to meet that demand."
To further Mrs. Anne's drive for excellence in all aspects of the ranch, the ranch not only invested in genetics, but made sure to capitalize on those investments. That meant taking the ranch's branded product all the way to the plate.
The ranch also uses artificial insemination (AI) and expectant progeny differences (EPD) to breed and choose cattle.
The EPDs are used on purchased bulls to ensure a more "balanced individual animal that performs and grades well for the consumer," says Leathers.
Leathers makes sire selections after finding a sire herd that will increase "the percent of prime carcasses." He wants to generate more of "the best" to be highlighted in the reports.
"The high quality of Four Sixes cattle is well known, and that reputation continues today, thus making the ranch a front-runner in the cattle industry."
At the Four Sixes, each cow must produce a calf in the spring and that calf must be healthy enough by fall to run with the herd. On this ranch, "there are no second chances," says Leathers.
"We not only want a cow that is conformationally and genetically good but one that can get out and make a living," says Leathers. The cattle must also perform well at the feedlot. If there is a group of cattle, both female and bulls, that is not performing up to standards then the bull battery has to be adjusted.
"We work day in and day out trying to improve the genetics on our cattle to put more pounds of meat in the supermarket for the American consumer," Leathers says. "Performance and volume is the focus of production."
EID tags a management tool
In 2011 and 2012, when the cattle had to be moved out of Texas to other states because of the drought, the ranch started using electronic identification (EID) tags to ease the management of the cattle. Since then, EID has become a permanent practice for the Four Sixes.
Livestock traceability systems in the U.S. vary between states, but the beef industry has been trying to hammer out a cohesive system anchored by EID. Leathers, who co-chairs the Producer Traceability Council, says this was also an opportunity to help develop the program and to present to cattle producers a way to formulate a "logical program." He explains that ultra-high-frequency is perhaps the highest advanced technology that is available to cattle producers.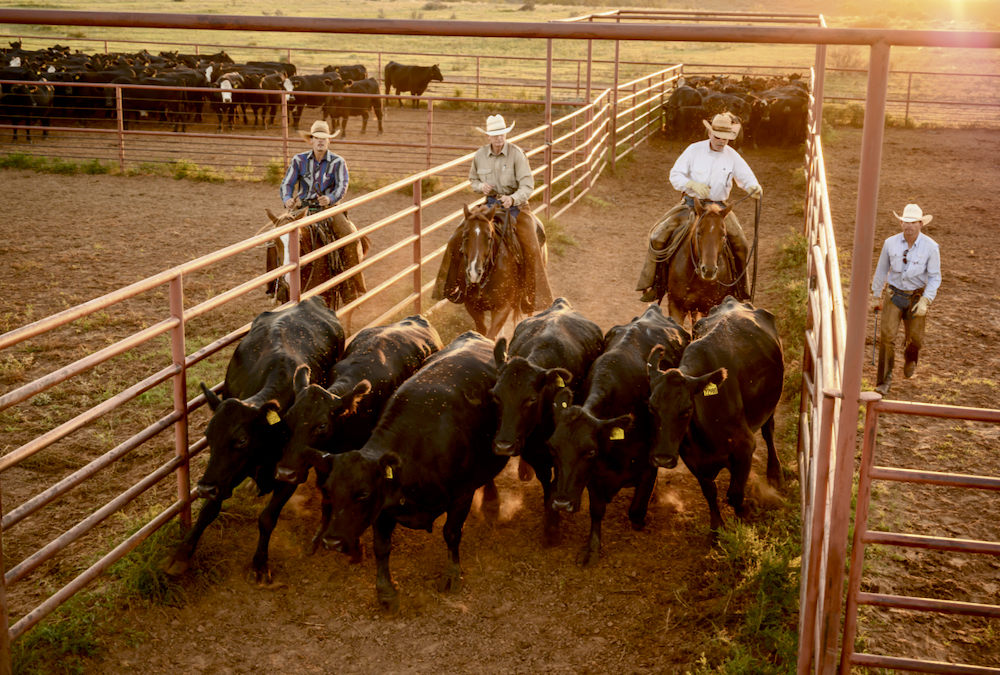 "It's more or less hands-free and you can read groups of cattle as they're commingled and you don't have to run them back down a chute and single-file them in order to get a read," he explains.
The traceability identification tag has become a management tool for the Four Sixes. Even though it pays for itself, the main reason for its continued use is the consumer demand. Another benefit is it offers "public assurance through the Animal Disease Traceability (ADT) program," he says.
"In reality, we don't dictate what the consumer wants, they dictate to us."
Benefits of the EIDs include a reduction in stress on the cattle as well as reductions in labor costs and overhead. EIDs also allow the ranch to better track and manage cattle for shipping information and performance in the feedlot. Herds can be managed more accurately for depreciation, culling, replacements and breeding records. Carcass grading performance and reports are more easily generated from EIDs.
Reclaiming the land
To reclaim the land and return it to its near-original state, a process called mechanical brush treatment was implemented in the mid-1990s. Even though removing mesquite and redberry junipers has taken over 25 years, and is still in progress, thousands and thousands of acres have been reclaimed for cattle grazing and wildlife.
Mrs. Anne's strong belief and vision in ecological conservation and natural habitat led to applying practices that reflect genuine stewardship, while also increasing profitability. Brush management, livestock water development and pre-arranged burnings are continued management practices currently used in unification with grazing management and a strong forage presence.
"When it was completely covered with brush, the ranch would run a cow-calf unit on 60 to 80 acres. Today, we can safely run a cow-calf unit, year-round, on 30 to 40 acres," says Leathers. "We have improved the stocking rate tremendously."
– Dale Bliss' father was a farmer and cattle producer. She writes about agriculture from the small Florida farm where she was born and raised.