The annual fall sale was held October 5 at Four Sixes Ranch in Guthrie, Texas, and 154 horses were sold.
Guthrie, Texas, October 8, 2019 — The Annual Return to the Remuda sale was hosted at the Four Sixes Ranch in Guthrie, Texas on October 5, where the Beggs Cattle Company, Four Sixes Ranch, Tongue River Ranch, Pitchfork Land and Cattle Company, along with guest consignors W.T. Waggoner Estate and Wagonhound Land & Livestock, sold 154 horses to the public.
For decades these ranches have been committed to developing true working partners desirable both on the ranch and in the arena. The large crowd on hand for both the demonstration and sale prices confirmed that the Return to the Remuda Sale is regarded as the most premier ranch horse sale in the industry.
Across the board the sale was strong with gross sales of $1,500,000 and an average of nearly $10,000 with strong prices for broodmares, fillies, 2-year-old geldings and aged geldings. However, the conversation is all about the high seller, #86 Bigtime Speed, affectionately known as "Uncle Buck," who made ranch horse sale history when the gavel dropped for the record price of $90,000.
Consigned by Four Sixes Ranch and from the string of Phil Fox this big, beautiful bay gelding has a unique story. Born on the ranch, he was passed over by the cowboys making their horse selections in 2014, and about six months later the big-hearted Fox said he felt sorry for him and approached Dr Blodgett about adding him to his remuda.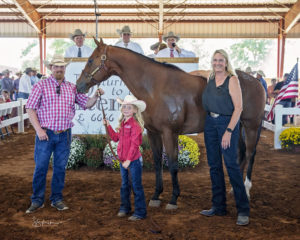 Fox recalled, "He was gentle from day one. I thought 'he won't want to move his feet and will be a mediocre horse,' but he surprised me and everyone else because he just kept getting better and better, eventually becoming a favorite horse on the ranch."
Shortly before Bigtime Speed became part of his string, Fox lost his brother, "The gelding soon became his namesake; we called my brother Uncle Buck. He always wanted to visit and so did this horse." The fact that the horse found his way into Fox's heart may have been happenstance, but the result has been a real blessing for Fox and his family, as he earns a portion of the proceeds from sell of Uncle Buck.
Uncle Buck was purchased by Bonnie Vessels, of Texas, who joined the excitement of the crowd, posing for pictures with her new purchase. "This is such an exciting sale for the Four Sixes Ranch as well as for the Ranch Horse market. Things like the AQHA Ranching Heritage Program have brought attention to this segment of the industry, allowing it to grow and be competitive. Uncle Buck will be a good fit for Bonnie at her ranch in Texas," commented Dr Glenn Blodgett.
Vessels is no stranger to making an impact on the industry. She, along with her late husband Scoop, have been a force in the quarter horse and thoroughbred industries for decades. They owned Vessels Stallion Station in California where, under the management of Scoop, First Down Dash became the all-time leading sire of racing quarter horses and still impacts the industry today.
Congratulations to the connections of the top 5 sellers:
Hip #86 BIGTIME SPEED, 2012 bay gelding (Bigtime Favorite – Natural Heaven, by Seven From Heaven). Consigned by Four Sixes Ranch – $90,000.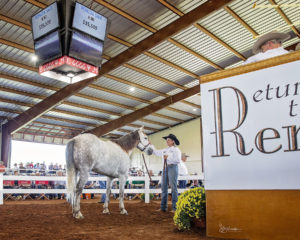 Hip #90 TRR TANQUERY CAT, 2013 gray gelding (Cats Hillbilly – TRR Sweet Shoot Out, by TRR Big Iron). Consigned by Tongue River Ranch – $36,000.
Hip #92 THE SMILING COLONEL, 2009 black gelding (Just Plain Colonel – HR Smiling Light, by Grays Starlight). Consigned by Wagonhound Land & Livestock – $35,000.
Hip #81 BECACO BIGNREDDY, 2013 red roan gelding (Mr Haida Flo – Ms Becaco Echoseven, by Doctor Echo). Consigned by Beggs Cattle Company – $34,000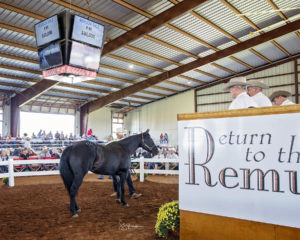 Hip #45 NATURAL TOPAZ, 2018 buckskin colt (Jesses Topaz – Natural Double, by Sixes Pick). Consigned by Four Sixes Ranch – $30,000.
Hip #62 JESSES POWER, 2018 bay colt (Jesses Topaz – Six Flo Lady, by Playgun). Consigned by Four Sixes Ranch – $30,000.
All of the participating ranches would like to thank everyone who supported the sale this year, "We cannot express enough how much we appreciate all of our buyers and enjoy seeing the horses succeed under new ownership. Plans are already underway for the 2020 Return to the Remuda Sale, which will include guest ranches Circle Bar Ranch and King Ranch." said Dr Glenn Blodgett.
Complete sale results are available at www.6666ranch.com.