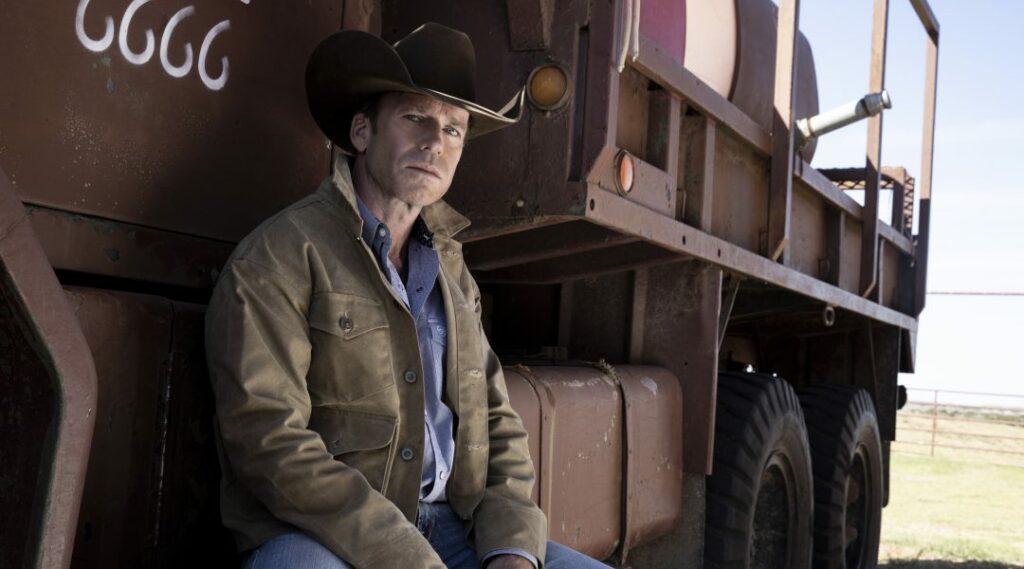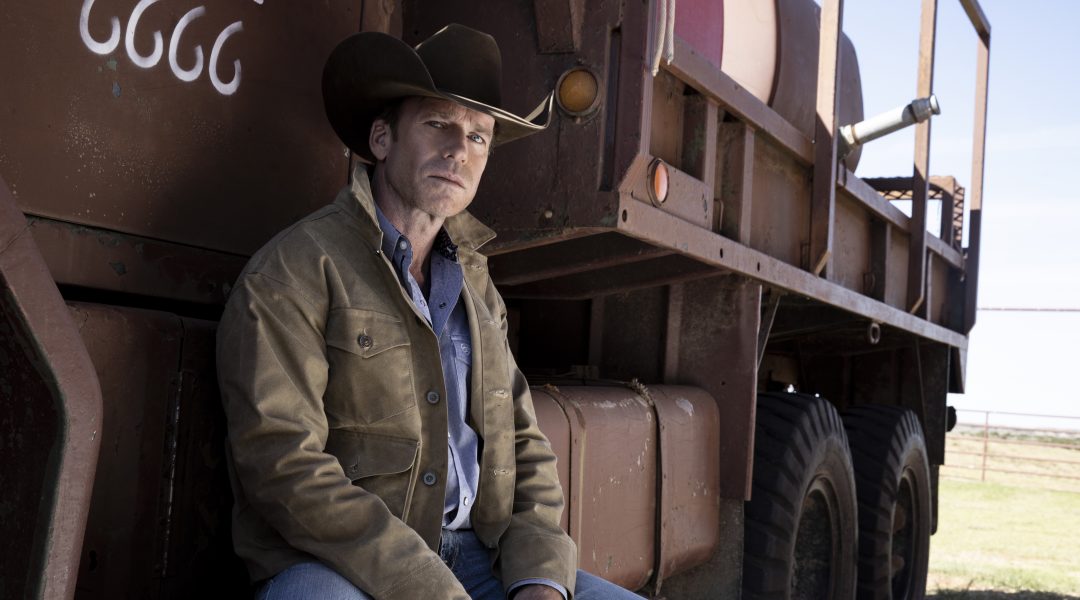 We get up close and personal with one of western entertainment's most important figures as he shoots scenes for Yellowstone's next season.
By Joe Leydon
December 13, 2020
Taylor Sheridan is on the phone, on the road.
After wrapping up production on the fourth season of Yellowstone, his smash-hit Paramount Network series starring Kevin Costner as the proud paterfamilias of a powerful Montana ranching family, the multitalented writer-director-producer is on his way back to his native Texas, where he and his wife, actress-model Nicole Muirbrook, currently have two home bases.
It's a long way from Hollywood, where Sheridan first gained prominence as an actor — his credits include continuing roles in the TV series Veronica Mars and Sons of Anarchy — and now visits mainly for meetings with "the suits" about his writing and directing projects. Chief among those achievements: Sicario (2015) and Sicario: Day of the Soldado (2018), two explosive crime dramas about FBI agents tracking Mexican drug lords; Hell or High Water (2016), a tale of Texas Rangers (Jeff Bridges, Gil Birmingham) on the hunt for bank-robbing brothers (Chris Pine, Ben Foster); Wind River (2017), Sheridan's official debut as a feature film director; and the forthcoming Those Who Wish Me Dead, his second directorial effort, starring Angelina Jolie as a smoke-jumper bent on protecting a teenage murder witness from hit men during a raging forest fire.
"I've been very fortunate," Sheridan says. "Everything I've ever made, we've shot the first draft of it. I've never been in a situation where I've been noted to death by a network or a studio. And so, that freedom to sit down and just dream it up is a habit. And it's a habit that I embrace, and try to feed as much as I can."
With that in mind, you could view Sheridan's return to the Lone Star State as his way of going back to the well. Sheridan grew up on a ranch in Cranfills Gap, Texas, and has drawn heavily on his experiences there while ramrodding both Yellowstone and The Last Cowboy, an unscripted Paramount Network reality show in which real-life cowboys compete for a $1-million payday. "If I'd make a movie about an astronaut going into space," he says, "I am making that movie for astronauts. For the astronauts to think, 'Wow, that's exactly what it's like.' Because if they believe it's like that, the rest of the audience will as well. So, with Yellowstone and Last Cowboy, the authenticity of a situation is very important to me."
After a photo shoot for our cover during filming for Yellowstone at the legendary Four Sixes Ranch in Guthrie, Texas, we were able to chat with Sheridan via cellphone for a stretch of his homeward journey. Here are some highlights from our conversation.
Cowboys & Indians: Sounds like you're going back to your Texas roots — literally as well as figuratively.
Taylor Sheridan: Yes, sir. I live on a ranch outside Weatherford, and I've got another ranch out by Jacksboro.
C&I: And you doubtless have a writing room for yourself at each location, right?
Sheridan: I've got little spots to write, yes. I left LA the second I could get out. My wife's from up in Wyoming, and my mother lives up there, so we moved there for a number of years, until I finally convinced her to come try my home state. And I moved her to Texas on August 1st, because I figured I might as well just pull the Band-Aid off quick. She didn't understand the heat for a bit, but then she figured it out, and now she's a Texan.
C&I: Can you tell us a little bit about your ranches?
Sheridan: The main headquarters where we live is more of a horse ranch, because I'm pretty deep into the horse deal. And then the ranch out by Jacksboro is more where we run the cattle.
C&I: How many head of cattle do you have?
Sheridan: [Laughs] You know better than to ask that question.
C&I: But Taylor! This is Cowboys & Indians magazine! You know our readers want to know about that!
Sheridan: [Laughs] Well, I'm very fortunate in that I have some very nice Angus cattle. As far as my horses go, I supply most of the horses to Yellowstone, my TV show. And then I have horses that I show and breed. Right now, I've got probably as many horses as I have cattle. And I have too many horses.
C&I: Why do you think it was important for you to return to Texas?
Sheridan: Well, it's different than any place else. Being a Texan today and what it means to live in Texas — there's a responsibility that comes with it, in that you really do represent the entire state. Everybody in Texas always represents the state. And so, there's a sense of class and confidence that I think every Texan seems to embody. And along with that, a respect for others, regardless of whether they agree with you or not. You respect their ability to disagree or agree.
And there's a kindness in Texas that I find lacking in many other parts of the country. Anywhere you go in Texas, there is a genuine concern for another person's well-being. I just think it creates a structure of society that is very harmonious. I've got a lot of people that fly in to meet with me from California or New York or whatever, and the first thing they say to me is, "I can't believe how friendly everybody is. Everybody's friendly and everybody's so happy. I don't understand it." It's like, Well, they're happy because they live in Texas and they're friendly because they're happy.
C&I: Let's backtrack a bit. You were doing rather well for yourself as an actor — and had continuing roles in two successful TV series — before you set your sights on a career at the other side of the cameras. What prompted the switch?
Sheridan: I think the thing that really changed my perspective on my career was getting married and having a child. And then, really thinking about how I am going to raise that child. And if that child is going to look up to me, what is he looking up to me for? It made me reflect on my career very deeply. Also, I wanted to tell stories that mattered to me, and not tell other people's stories. I wanted to tell stories about my life and the lifestyle that I grew up in, and the world that I came from. So people could understand where I come from, and understand the value of the upbringing that I had. That's why I quit acting. That's when I started telling those stories that I felt mattered to me.
C&I: How did you prepare to make the transition?
Sheridan: I learned how to screen-write by reading bad screenplays, which was basically my entire career. When I sat down to write my first screenplay, I said. "I have absolutely no idea how to do this. But by God, I know how not to do it. So, if I just don't do what everyone else is doing, it'll probably turn out okay."
C&I: You scored your first big success as a screenwriter with Sicario, the 2015 thriller about FBI agents charged with taking down a notorious Mexican drug dealer.
Sheridan: Yeah, I'd been banging my head against the wall as an actor for 15 years, but I didn't have to bang my head very much as a writer. There were challenges, of course. But the business of Hollywood is such that they were very ready for the stories that I was telling. I don't think you could have gotten Sicario made five years before or five year after. But I happened to write that at a time when there was an appetite for it. The same goes for Hell or High Water. Once I sold that story, it didn't stress me much that I wouldn't be able to tell whatever I wanted.
C&I: Something that stands out in your work as screenwriter and director — from Sicario and Wind River to Yellowstone and your forthcoming Those Who Wish Me Dead — is your ability to create strong women who can assert themselves in what are often considered "men's worlds."
Sheridan: Well, that's been my experience, right? My mother was a very strong woman, my wife is a very strong individual. My grandmother was a very, very strong woman. All the women in my family were very strong women who pursued their own careers. So that's all I've ever known.
C&I: Let's go back to Wind River for a bit. The great director Howard Hawks once said the key to making a great movie is having three great scenes, and no bad scenes.
Sheridan: Yes, I agree. And my take is, a movie has to have three great scenes — and the rest just has to make sense.
C&I: Wind River certainly is a great movie. And at least two of the great scenes in it involve Gil Birmingham, who previously appeared in Hell or High Water, and now co-stars in Yellowstone as Chief Thomas Rainwater. What do you think makes Birmingham such a valuable collaborator for you?
Sheridan: Well, he's a very fierce actor. He's really talented. You know, we auditioned a lot of other actors to play Alberto Parker in Hell or High Water. But there is a power and yet also a gentleness to Gil that I felt was very right for the role. When I wrote Wind River, I wrote that role with him in mind. And, actually, I wrote an additional scene once I got him in it. When I wrote Yellowstone, well, I called him before I wrote it. Like, "Gil, I've got a role that's right for you, buddy. I hope you come do this thing with me." And he said yes. And I was grateful.
C&I: Before you committed to the Paramount Network, Yellowstone started out at HBO, right?
Sheridan: That's correct. And I had written two scripts for them at HBO. But then I sat with the senior vice-president of HBO, who told me that they weren't going to go forward with it. And when I asked why, he said, "Nobody wants to see this. Nobody wants to see a movie about this. And you don't understand why anybody is sitting out there in the first place. The whole thing should be a park." And I said, "Buddy, you're the exact reason that I'm making this."
C&I: And then?
Sheridan: Paramount got hold of the script and read it and flew me down to LA. They told me: "We want to make this. No development, no nothing. We want you to go shoot it." And at this time, Paramount was really trying to rebrand from being Spike TV. They really wanted to push and become this premium cable outlet. But I didn't necessarily believe that they could do it. I said, "I don't know if this is the right thing for you, because it's so ambitious. It's going to be so expensive. It's not going to make sense from a production standpoint."
But they had such an appetite for it, they said, "We're going to do this," and they did.
Of course, as it turned out, we were both right. They were excited to do it — and it was as difficult as I said it would be, and as expensive and as challenging. But they trusted me. There were a few times, I think, when they covered their eyes and looked down. But they never said stop. And they did the same thing this season. If you think about it, we were one of the first TV shows to start shooting again during this coronavirus.
C&I: And you're just about finished with the Season 4 episodes?
Sheridan: Yellowstone and Tyler Perry's TV shows were the first TV shows to film during this pandemic. And let me tell you: To put together a group of 200 people was very risky. But I told them: "Trust me. The whole thing takes place on a ranch, it's the safest place on Earth. At least from the virus standpoint." So we did it. And they trusted me. They wanted to make the show as we've come to know it.
C&I: Was Kevin Costner part of the project from the start?
Sheridan: No, not when it was at HBO. But when I went to Paramount, he was. Kevin read the script and we had a lot of conversations about where this would go and what we were going to explore. And with our agreement and our partnership — well, Paramount didn't want to let it go anyplace else.
C&I: It's perfect casting, for a number of reasons. The other members of the cast are professionals, of course. But you needed the give the impression that even they might be a little intimidated by him. Correct?
Sheridan: Well, in order to give John Dutton the weight that he needed, it had to be an extremely formidable actor. And there were only maybe three others that could have done it. But none of them could have done it as well as Kevin.
I mean, look: Kevin's career spans 45 years, of course, but I really became fascinated with film as a young man, and at that time, he was really beginning to dominate — as he still does — the industry. Whether it was with his character in Silverado, or his character in Dances With Wolves. His Open Range is as good a western as I've ever seen. And he made a movie with [director] Tony Scott and Anthony Quinn that's been extremely influential on me. So yeah, I've been a tremendous fan of his work for my entire career. And the opportunity to work with him now is… Well, sometimes you've just got to pinch yourself.
C&I: I assume you had something like a master plan right at the start about Yellowstone. Something like, "If I get to do this for three seasons or four seasons, I want to do this, then I want to do that." And, presumably, you have an endgame in mind?
Sheridan: I know this thing's going to go for a bit. I know exactly how it ends and it's working towards that ending. [Pause] How's that for a non-answer?
C&I: Pretty cagey. But at what point did it really dawn on you that, hey, this isn't Dallas? When you figured: "I've got to make an audience really care about a family filled with people who kill other people from time to time. I have to make every killing, whether you would call it homicide or self-defense, in some way justifiable. Otherwise, I just might lose the audience." Isn't that a risky balancing act during the run of a TV series?
Sheridan: Look, I don't know the first thing about television. I don't know the first thing about how to produce a TV show, how to direct a TV show. And I'm not trying to ever learn. As far as I'm concerned, I'm shooting a 70-hour movie in one-hour increments. I approach it like that, and Paramount lets me.
For me, this is less like Dallas and more like The Godfather. That was a drama about a family that did very bad things to protect its legacy. And yet, we care deeply for the characters. We never judge them for some of the malicious deeds that they did. So when you're storytelling, you're obviously going to heighten the drama, and intensify the circumstances, and create certain things, and you might question their plausibility in this world. But this show — any show, any movie — is in an alternate world. And so, you get to make your own rules in that world. As long as you are consistent in those rules, then the audience will accept them and embrace them.
Of course, the most important thing to do is justify a character's position. It doesn't mean it's the right position, but justify every character's position. You have to really make the audience understand the point of view of everyone. Thomas Rainwater and John Dutton are in extreme opposition. And yet, we very clearly understand their positions and why they take them.
C&I: OK, you're not going to give us any hints about what happens in Season 4, are you?
Sheridan: Not a single one.
C&I: Kind of figured that. But it's hard not to ask, considering how you finished off the Season 3 finale.
Sheridan: [Laughs] That was kind of tricky, wasn't it?
C&I: You weren't satisfied with just one cliffhanger. You gave us a row of cliffhangers there. A mountain range of cliffhangers.
Sheridan: Well, you know what they say: You've got to break a few eggs to make an omelet.
Season 3 of Yellowstone is now streaming on Peacock, and Season 4 lands on Paramount Network in 2021. Those Who Wish Me Dead is planned for a 2021 theatrical release.
Photography: Images courtesy Emerson Miller
Stylist: Megan Gillespie, Grooming: Tim Muir, Makeup: Shane Bell
From our January 2021 issue.