It was no shock Alabama trainer Austin Shepard added another two titles to his collection at the NCHA Eastern Nationals, one of the association's final spring events before the COVID-19 outbreak brought horse shows to a halt.
Quarter Horse News
May 1, 2020
By Teri Lee
Photo by Video West Productions
Open
Bama Jelly & Austin Shepard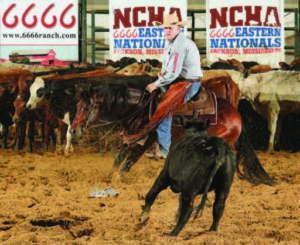 15S (Bamacat x Wood She Be Neat x Nitas Wood)
Owner: Madalyn Cosgrove, Boligee, AL
Breeder: Madalyn Cosgrove, Boligee, AL
Equi-Stat Elite $8 Million Rider Austin Shepard of Summerdale, Alabama, has won numerous Eastern Nationals titles through the years, and this year was not an exception. Shepard won the Open finals aboard Bama Jelly with a 228, as well as the $5,000 Novice Open riding CR Dualin Out Tuff to a 225.
"It was a pretty tough cutting," Shepard said of the Open. "We had a [2]28, a [2]25 and a [2]23. I was just trying to have a really clean run. That's what's nice about having a really good horse like Bama Jelly, because if you can have a clean run, he sticks out.
"He has been an excellent horse to train and show; he's so honest," Shepard continued. "Not only is he a super-talented horse, but he gives you 100% every time you show him. It's no different with people; that's a great quality, when someone gives you everything that they have when they go to do a job. And not only is he good at his job, he's willing to do whatever it takes to win, and that's very important."
Shepard described Madayn Colgrove's Bama Jelly, who has won $175,000-plus, as good-minded and said the stallion retains training as easily as or better than any horse he has shown.
"If you tell him to do something when you are working him, he's going to overdo it when you show him. Every horse does that to an extent, but that horse probably sticks out in my mind more than any horse I've ever had. He's super smart and tries to figure out every situation."