The study is a partnership between Texas Tech's NRM and Quail First, a nonprofit organization.
Texas Tech University, August 15, 2013
By John Davis
About eight years ago, bobwhite quail started disappearing on the fabled Four Sixes Ranch near Guthrie.
Joe Leathers, the general manager of the ranch, said he and others noticed fewer and fewer of the birds as each year passed. While they knew that other parts of the country and even Texas had experienced the same disappearing act, he and owner Anne W. Marion wanted to do something to protect the coveys that still existed on the 208,000-acre ranch that was established in 1870.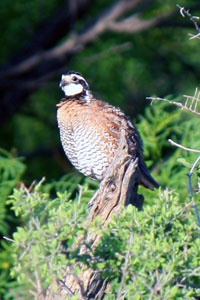 "The people that own the ranch take a lot of pride in taking care of their country and the wildlife that lives on it," Leathers said. "We saw an opportunity with Texas Tech to do something about the quail situation."
In 2010, the ranch enrolled in the Quail-Tech Alliance, a five-year, $1.25 million study. Scientists with this project hope to discover reasons for the area's quail decline as well as develop new methods for landowners to use to stabilize, maintain and even increase quail populations, said Brad Dabbert, research project manager and an associate professor at Texas Tech's Department of Natural Resources Management (NRM).
The Quail-Tech Alliance is a partnership between Texas Tech's NRM and Quail First, a nonprofit organization.
"This project got underway because of the general decline of quail nationwide," Dabbert said. "We were starting to see that decline creep across Texas. Quail-Tech was formed to try to learn what problems are involved with the decline to get in front of it as much as possible."
Currently, the Four Sixes ranch is one of 26 anchor ranches in 19 counties covering about 1.6 million acres of land, he said. The organization hopes to grow into a 38-county research area in west central and northwest Texas – an area that encompasses more than 22 million acres or roughly 10 times the size of Yellowstone Park.
Other historic ranches already participating include the Pitchfork Ranch, W. T. Waggoner Ranch, Milliron Ranch in Collingsworth County and George Allen's Circle A in Archer County.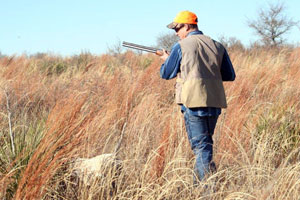 "It is organized so that basically the ranches pay a fee to be in the organization and get some deliverables, such as quail counts and consulting on how to take care of their lands," Dabbert said. "We also have on-the-ground research at the ranches at various times. Their fees are paid to Quail First, the charitable foundation. Those funds are then sent to Texas Tech."
Protecting the West Texas quail-hunting legacy is what the project is all about, said Charles Hodges, Quail-Tech board member, co-founder of Quail First and chairman of Hodges & Associates Architecture in Dallas.
The Texas Tech alumnus said he spent most of his life following his father around during quail hunting season, and he wanted to preserve that tradition for future generations.
"That legacy my dad gave me was one that brought me to start the program and return quail hunting to its prominence in West Texas," Hodges said. "Someone had to do it, so we got everyone together at the Omni Hotel in Fort Worth to bring this to forefront. We had Dr. Dabbert and Dr. Sosebee build a program, and it's turned into one of the largest in the country in terms of acres enrolled."
Organizers envisioned working ranches enrolling in a program to become a laboratory for quail research, Hodges said, as a practical way to get the research accomplished. He and others went to ranch owners to explain the program.
"The vision is really continuing to evolve," he said. "In the beginning, I think there was a great lack of real-world science. There were a lot of theories as to what was happening with the quail, but not a lot of practical application. We found there are lots of external factors – some natural and some man-made. So we thought we'd go down the checklist to see what was affecting the quail populations and get to the source of the decline so we could educate and intervene with anyone that's a landowner or quail hunter."
So far, researchers have done genetic analyses of quail to look at integrity and diversity of the birds in different areas as well as screen for some diseases, such as West Nile virus. In the northern Panhandle areas, researchers have studied how scaled quail might be competing for food and space with bobwhites and how the differences in each species' reproductive capabilities may play a role in the decline.
Scientists also have worked on ways to raise wild birds from eggs with surrogate parents while in captivity, he said, since captive-raised birds tend to not learn what they need to survive in the wild. They also have tried to relocate populations from high-density areas of South Texas, which seems to be faring better than the rest of the state's populations, into areas where bird numbers have significantly decreased.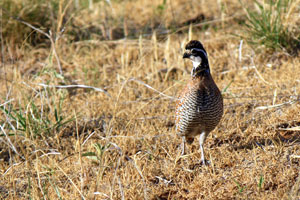 "In my opinion, one of the most important projects has been supplemental feeding," Dabbert said. "Supplemental feeding in the past meant putting feed into some sort of barrel feeder or broadcasting feed onto road surface. There have been several studies that have shown neutral or temporary effects. We've been broadcasting sorghum into the habitat so that birds don't have to go to one specific spot, such as a feeder, or expose themselves on open road. It's been pretty satisfying to get something like that to work.
"In two years, we've seen 15 percent to 30 percent higher annual survival in areas where supplemental feeding took place. The negative is the feed's not cheap. We're about to restart that study and see if we can make it more economical."
During the dry year of 2011, Dabbert said only 15 percent of females tried to nest when they had to find their own food. That's compared to 85 percent of supplement-fed birds that tried to nest the same year.
Leathers said a little quail hunting goes on at the Four Sixes Ranch, although no hunting has taken place in the past two years, and none will take place this year.
He hopes that researchers will continue finding useful information to share with landowners to keep their coveys intact.
"Anne's interested in cattle, but also with the wildlife as well," he said. "We work so cattle and wildlife can cohabitate and thrive. I've been extremely pleased with the research, and the students from Texas Tech have been very diligent and done an extremely good job with this project."
For more information on the Quail-Tech Alliance, visit www.quail-tech.org.